2 weeks (exactly) of holiday gives me a lot of time to spend on nothing. So, since I am a huge movie person... I did spent most of it watching movies and sometimes TV series. Some were old and some were more recent. So here are some movies that I saw that came out recently. ^_^ (Hope you like the okay-ish segment title!)
4 Seen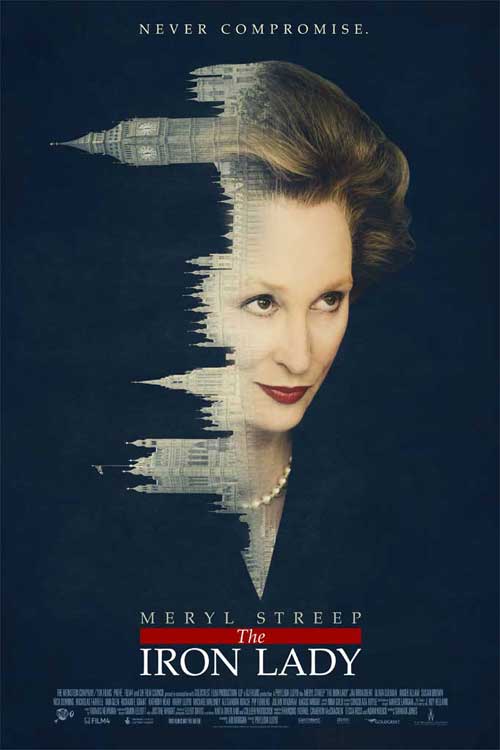 1. The Iron Lady
Genre: Biography, Drama, History
Starring: Meryl Streep, Jim Broadbent, Alexandra Roach, Harry Lloyd
Storyline:
An Elderly Margaret Thatcher talks to the imagines presence of her recently deceased husband as she struggles to come to terms with his death while scenes from her life, from girlhood to British prime minister, intervene.
Awesomeness: Great acting. Oscar-winners.
Not-so-awesomeness: It's a biography which means it's rather flat and dull, dry.
Rating: 7.1 / 10
2. The Odd Life of Timothy Green
Genre: Comedy, Drama, Fantasy
Starring: Jennifer Garner, Joel Edgerton, CJ Adams, Odeya Rush, Rosemarie DeWitt
Storyline: A childless couple bury a box in their backyard, containing all of their wishes for an infant. Soon, a boy is born, though Timothy Green is not all that he appears.

Awesomeness: Good family movies. Touching, poignant.

Not-so-awesomeness: WHY ARE ALL CHINESE ORPHAN GIRLS CALLED LILY?! Sorry, but it's just annoyiong. Another thing, the kid was like... 10? He fell in love?! A little young in my opinion.

Rating: 6.5 / 10
Genre: Romance, Comedy
Starring: Jason Segel, Emily Blunt, Chris Pratt, Alison Brie, Jacki Weaver
Storyline: One year after meeting, Tom proposes to his girlfriend, Violent. But unepected events keep tripping them up as they look to walk down the aisle together, over a 5 years period.

Awesomness: Jason Segel is one of my favourite actor (since I love How I Met Your Mother). A sweet rom-com. It has an awesome wedding at the end.

Not-so-awesomeness: 5 years is a bit too dragged on. There were too many "sex" scenes.

Rating: 7.1 / 10
Genre: Romance, Comedy, Fantasy
Starring: Owen Wilson, Rachel McAdams, Michael Sheen, Nina Arianda, Corey Stoll
Storyline: While on a trip to Paris with his fiance's family, a nostalgic screenwriter finds himself mysteriously going back to the 1920s everyday at midnight.
This is my first Woody Allen film. I am not sure if I should be ashamed or not that I have never seen a Woody Allen film before. I watched this movie with my mother and she said at the end that it's a brilliant movie, considering that recent Woody Allen films has gone pear-shaped. She hasn't seen one in ages, and apparently the old ones are quite good. I liked this movie, not quite sure how much.
This movie did one thing for me that I am absolutely delighted about. Tom Hiddleston was F. Scott Fitzgerald! You are probably wondering why I am so happy about that. That's because I have to read The Great Gatsby as part of my English Literature set text. People are going to say how good the book is but I am going to be spending at least 2 months studying it. Knowing Tom Hiddleston (who is awesome) was Fitzgerald made my day. Another thing, Erin, who I have mentioned before, she is an-absolute-video-games-nerd (and proud) nearly screamed in the lesson, when we got the book, and found out that Zelda was Fitzgerald's wife. She loves any Zelda games. It was actually quite hilarious that she freaked out.
Awesomeness: The Fitzgeralds. TIME TRAVEL (I love anything related to time travelling).
Not-so-awesomeness: Woody Allen's style takes a while to get used to. The modern characters, e.g. Inez (Rachel McAdams), is annoying and bitchy.
Rating: 8.0 / 10
2 Going to See
Rise of the Guardians
Genre: Animation, Adventure, Comedy
Starring (voice): Chris Pine, Alec Baldwin, Jude Law, Hugh Jackman, Isla Fisher
Storyline:
When an evil spirit known as Pitch lays down the gauntlet to take over the world, the immortal Guardians must join forces for the first time to protect the hopes, beliefs, and imaginations of children all over the world.
I am a huge sucker for good, funny animation movies that are not Disney. This one looks amazing! I am so looking forward to see it. The trailer looks hilarious. Plus Jack Frost is like one of the most good looking animated character! And hey! You don't see a lot of Santas with tattoos.
Les Miserables
Genre:
Musical, Drama, Romance
Starring:
Hugh Jackman, Russewl Crowe, Anne Hathaway, Amanda Seyfried, Samantha Barks
Storyline:
In 19th-century France, Jean Valjean, who for decades has been hunted by the ruthless policeman Javert after he breaks parole, agrees to care for factory worker Fantine's daughter, Cosette. The fateful decision changes their lives forever. (If you don't know the plot to Les Mis, you should be ashamed.)
This just looks amazing! The trailer does so much to a movie. I am just lost for words to say how much I am looking forward to see this movie. I am just going to say: I MUST SEE THIS!
I am ill at the moment so I am going to go back to drinking my tea and watch more movies.