A 2 days belated music post but nevertheless MUSIC! So the spotlight today is... -drum roll-...
INDIE ROCK
I have no clue why but since last week, I have been really into Indie Rock. It's such a diverse and awesome genre.
Metric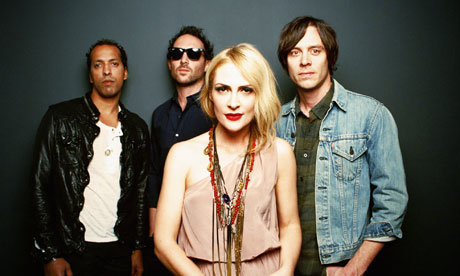 Metric is a Canadian Indie Rock band. I actually first heard about them when I watched Scott Pilgrim vs. the World with Beth and Erin a few years back. If you haven't seen the movie, you are missing out big time. Anyway, their song, Black Sheep, was featured in the movie. Although Brie Larson sang it instead. I love the song so much so that I listened to Larson's version for ages, since I didn't know Metric originally sang it, until I got the soundtrack. When I got the soundtrack, I immediately listened to Metric's version. If there is any way for me to love the song more, it's listening to Metric's version. Emily Haines sang it to perfection. I actually way prefer the original version compared to the movie version.
Another song I absolutely adore by Metric is Gimme Sympathy. I can replay this song over and over and over again and not get bored.
I have to admit that Metric is really what got me into Indie Rock music. So a BIG thumbs up to them. Also check out some of their other songs. You won't be disappointed.
Stars
Before I even say anything about Stars... listen and prepare to fall heads over heels with this song, completely in love. I DO MEAN absolutely in love.
Now that you are in love, I shall begin. Stars is a Canadian Indie Pop band. They are amazing. I think you get my drift about their awesomeness. Their songs have featured in quite a few dramas. Sadly, I don't watch any the dramas that their songs are featured in. However, Dead Hearts was probably most popularly on Like Crazy. I haven't seen the movie either but I still love this song. I serious need to get their albums instead of going on Youtube all the time, espeically The North. Other stunning songs:
Fixed

The Theory of Relativity

Ageless Beauty

Your Ex-Love Is Dead

Hold On When You Get Love And Let Go When You Give It

Backlines
If you have heard of Stars and love their music, I love you. You are awesome.
Bon Iver
Bon Iver is an American Indie Folk band. They have an won a Grammy. That is the extent of their awesomeness. I especially adore Skinny Love but I am pretty sure everyone know this song. And this band. So, I don't need to say more about them. All their songs are quality good music.
Metric, Stars and Bon Iver produce good music. When you find and love good music, you will be as happy as I am. Hope you enjoy and love the music like I do~